Wat is er nou eigenlijk allemaal mogelijk en wat kan domotica daarin voor u betekenen.
De intelligentie van uw home automation systeem bevindt zich in de controller/gateway. Via dit kunt u overal ter wereld uw huis bedienen.
Er zijn 2 soorten gateway/controllers, hardware- en software matige.
Zie hieronder wat voorbeelden om uw comfort te verhogen en uw huis intelligenter te maken.

Thuis komen.

Wordt elke dag gewekt door de lampen in uw slaapkamer en enkele minuten later gaan de gordijnen open.
Zodra u naar uw badkamer loopt gaat het slaapkamer raam open, uw koffiezet apparaat in de keuken wordt aangezet.
Op uw tv in de slaapkamer en/of woonkamer verschijnt het nieuws.
Uw favoriete muziek wordt ten gehore gebracht via uw speakers in het huis of alleen in de slaapkamer.

U kent dat wel, u moet plotseling 's avonds naar het toilet en het is donker.
U twijfelt zal ik de lamp aandoen of niet.
Met een ingebouwde dimmer en scene is dit nu verleden tijd.
De beweging sensor registreert dat u 's avonds/'s nachts opstaat en regelt dat uw kamer, overloop en badkamer verlichting gedimd aan gaat.
Zo kunt u rustig naar het toilet zonder dat u anderen wakker maakt door de verlichting of dat u zich ergens aan stoot, omdat u de verlichting niet heeft aangedaan.

Beweging detecteren en actie ondernemen.
Zoals op uw telefoon een berichtje krijgen dat de kinderen thuis zijn gekomen.

Rook detectie.

Met één beweging.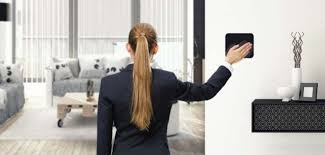 The Button